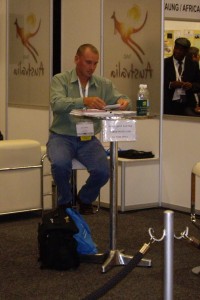 In February, I traveled to Cape Town, South Africa, with Austrade, to attend the Mining Indaba Conference.
Mining Indaba is a professional conference dedicated to the capitalization and development of mining interests in Africa.
This professional three-and-a-half-day conference has developed into Africa's largest, most-significant mining event.
This year's Mining Indaba was said to have more than 3,000 delegates representing nearly 800 companies. There was around 200 sponsors, and around 40 government and quasi-government delegations.
The participants at the Indaba Conference represented stakeholders in the mining industry value chain throughout Africa, with sponsoring companies representing an estimated collective market value of $4 trillion.
Most of the world's major mineral producers, developers and explorers where represented.
I also had the opportunity to visit the ECASA (Electrical Contractors Assoc, South Africa) offices in Cape Town. Mr Pierre Foote, ECASA Regoinal Director was very generous and took me on a tour of their training facity within their building.
I look forward to assisting the African Continent with their training endeavors and investigating further opportunities in Africa for the Jamestech Group