On-Site High Voltage Audits and Training
Jamestech staff have extensive experience and qualifications to assist you with Auditing your HV installation and provide Site Specific On-Site High Voltage Training for you and your employees.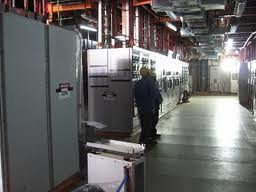 A high voltage installation is a group of items of electrical equipment permanently connected together and supplied with electricity at voltages greater than 1000VAC RMS or 1500V ripple-free DC.
HIGH VOLTAGE AUDITS
Under Section 221 of the Electrical Safety Regulation 2013, a person must not connect or reconnect a high voltage electrical installation to a source of electricity, after electrical work has been performed on the installation, unless the electrical work has been inspected by an accredited auditor and found to be electrically safe and compliant with the Wiring Rules (AS/NZS 3000) and other relevant Australian standards, such as AS 2067 (Substations and high voltage installations exceeding 1 kV a.c.).
Obligations and responsibilities
The owner of the high voltage installation must ensure that:
the installation is inspected, tested and found to be electrically safe by an accredited auditor before the installation is connected or reconnect to the electricity supply; and
all requirements, as stipulated by the accredited auditor, are met and are maintained during the life of the installation.
The owner has the responsibility to:
accept or reject the design and equipment used in the installation, ensuring compliance with legislative and Australian standard requirements; and
accept the use of any particular equipment or method of installation in accordance with, and ensuring compliance with, legislative and Australian standard requirements, and to obtain advice on this from people competent to provide such advice.
What must your accredited auditor do?
inspect the high voltage electrical installation, confirm the installation has been tested to ensure it is electrically safe and is in accordance with the Wiring Rules and Electrical Safety Office, Department of Justice and Attorney-General
Connection and reconnection of high voltage installations ESOPDF003 Version 1 Last updated November 2012 other relevant Australian standards; and
provide written notification to the owner / occupier or to their representative detailing the outcome of the inspection; and
the auditor, or the employer of the accredited auditor, must make and keep a copy of the inspection report for at least five years.
*****
HIGH VOLTAGE TRAINING
Based on the current Queensland Electricity Entity – Procedures for Safe Access to High Voltage  Electrical Apparatus.
Consisting of :

UETTDRIS44A  Perform HV Field switching operation to a given schedule
UETTDRIS39A Perform power system substation switching operation to a given schedule
UETTDRIS48A Develop high voltage switching schedule
This Group of Competency Standard Units cover,
The carrying out of high voltage switching operations involving the operation of site circuit breaking and isolation devices, in substations or in the field, from a given switching schedule and according to enterprise procedures.  It also encompasses the process of; communicating with the Switching Coordinator on site or PTCEW, isolating the electrical equipment and the line or work site, as well as proving that the area is de-energised and earthed, issuing/accepting electrical permits and the returning of the affected circuits to service.
The preparation of a basic switching schedule for interconnected HV.   It includes planning basic outages and taking into account loading of network components. It also includes the provision of an area which is de-energised and earthed.
This training meets and exceeds the expectations of:
Mining and Quarrying Safety and Health Regulation 2001
93 Training –

(1)    The site senior executive must ensure each worker at the mine is trained, if necessary, and  periodically assessed, to ensure the worker has adequate—
knowledge and understanding of the processes to be carried out, and the materials and plant to be used, for the worker's duties at the mine; and
skill to carry out the processes, handle the materials and operate the plant; and
ability to access and understand the procedures and standard work instructions for the worker's duties.
(2)    The training must be carried out in an appropriate way, including, for example, by formal training courses or informal on-the-job instruction.
(3)    The assessment must be carried out in an appropriate way, including, for example, by examination, test or proof of relevant prior learning.
Don't be left with a substandard level of  training.
Allow us to ensure your site procedures and training are fully compliant and your people are correctly trained for your equipment.
Want to know more?, please don't hesitate to contact any of the Jamestech staff on +61-7-55493471 (outside Australia), or 1300 732 881(freecall within Australia).
Jamestech is proud to prioritise High Voltage Electrical Safety.

Ken Cryer
Engineering Manager & High Voltage Auditor/Trainer
Email: ken.cryer@jamestech.com.au
Townsville office : +61-7-4725 7709