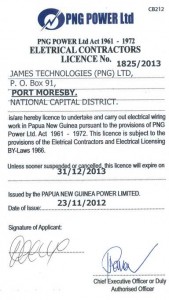 Last week when was in Port Moresby, I was very pleased to recieve our James technologies PNG Electrical Contractors License from PNG Power Ltd.
Jamestech have had many years working within Papua New Guinea and we look forward to continuing this relationship by further providing our Electrical Contracting and Training Services to our customers in PNG.
Jamestech know the importance of completing projects on time and within a strict budget. Whether is be a shutdown for 1 day or 1 month, or a greenfield project lasting years, supplying fully trained workforce and electrical materials are our specialty.
Suppling trained labour and quality materials to our projects is our priority and we understand what your Regulatory Authorities require, ensuring the installation is at the highest Standard.
Jamestech remains focused to the highest principles of health, safety and community and always adheres to, and enhances, our customers abilities to perform in these areas.
Jamestech Management has extensive knowledge of all Electrical Statutory and Licensing requirements and support all our staff at no extra costs where expert assistance is required on site
****
Mark Bakarich and I where very proud to attend the farewell funcion last week for Consul-General of Papua New Guinea, Mr Paul Nerau.
Paul has been Consul-General since 2004 and will be greatly missed. His wonderful and warm demeanour had made him the perfect person to be one of PNG's highest represenatives to Australia.
****
Should you require any further information, please do not hesitate to contact any of the Jamestech staff on:
Main Telephone: 1300 732881 (freecall within Australia)
Brisbane Office: +61-7-55493471
Townsville Office: +61-7-47267709
Facebook – http://www.facebook.com/JamesTechnologiesPtyLtd

Darren Caulfield
CEO
Email: darren.caulfield@jamestech.com.au